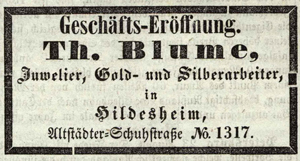 More than 150 years ago, on August 31, 1858, Theodor Blume, from Holle/Bültum, established a gold- and silversmith's workshop in the Schuerstrasse in Hildesheim. Ten years later, in 1868, he bought an old timberframe house on the Hohen Weg and chose the patron saint of the neighbouring St. Andrew's Church for his business's seal.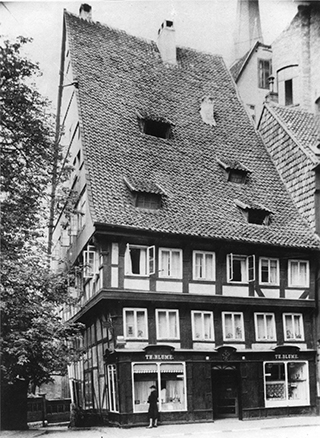 At this time Th. Blume was a handicraft business in the traditional sense, to a large extent also repairing used tools. Journeymen would work for a certain period of time in the workshop and would be classed according to the number of strikes of the hammer it took to make a spoon of silver.
In 1906, Hermann, son of Theodor, took the reins of the workshop and began concentrating more and more on the reproduction of handicraft pieces from the Hildesheim area. It was during this time that reproductions were made of the Bernward candlesticks, the Egyptian cat statue of the Pelizaeus Museum, and numerous pieces of the Hildesheim Treasure ('Hildesheimer Silberfund'). Hermann presented complete sets of these 1868 reproductions to the Prussian crown prince and to various museums.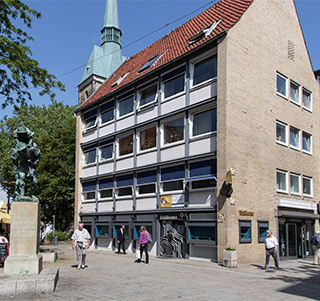 The third generation took over the enterprise in 1931. Theo Blume, the grandson of the founder, ramped up efforts in the workshop and developed a new design vocabulary, influenced by his formal training as a sculptor. Design sketches, photographs and individual pieces from this time have been kept to this day.
The Second World War led to an ebb in activity and in 1944 to the closing of the workshop. The old timberframe house on the Hohen Weg burnt to the ground during bombings in 1945. After the war, the workshop was reopened by Theo in the Goslarschenstrasse and the shop proper was opened by his brother Heinrich Blume on the Zingel. By 1954 the brothers were able to inaugurate the new business premises at the original site.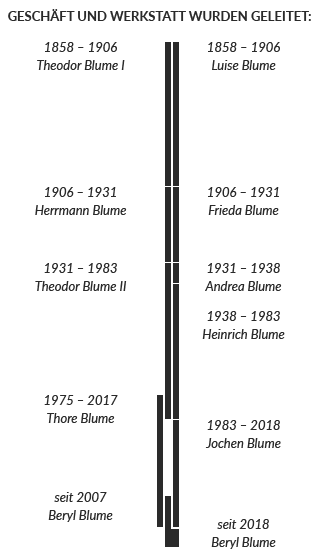 In the workshop Theo Blume established new priorities and dedicated himself to the production of individual pieces. To this end his design vocabulary follows the primacy of the line as well as the developments in contemporary art. The reparation of silver tableware still remains an important facet of his work. His handwrought drinking cups (Trinkbecher) have become somewhat of a trademark of his.
In 1975 Thore Blume takes over leadership of the workshop and of creative tasks. After the death of Heinrich Blume in 1983, the enterprise is handed over to Jochen Blume. 2007 the fifth generation has entered the story with Beryl Blume, who has been a managing director since the death of Thore Blume, supported by Jochen Blume.